Today's London is a far cry from Charles Dickens's nineteenth century portrayals. It's a diverse city that welcomes immigrants, and one where British Indians constitute the largest ethnic minority group. Events such as the end of World War II and the Indian Partition of 1947 ushered in Indian immigrants looking to fill labor shortages and build their lives in the city. Since their arrival, British Indian influence has seeped into daily London life. You'll find residents navigating Little Punjab's bustling streets and diners devouring channa masala at London's finest Indian restaurants.
Social and demographic progress can be traced through a city's foodways. To show the landscape of Indian food culture in London, I created two maps: one showing borough breakdowns of Greater London's Indian population from the 2011 Census, and the other showing the locations of Indian restaurants according to Open Street Map (OSM), plus Indian restaurants declared noteworthy by popular food critics. I approached these two maps with a central question: Do more Indian Restaurants exist in boroughs with a higher proportion of Indians, and if so, are they being acknowledged by food media?
When he sat in the garden downstairs, eating his khichdi - which the British had changed into kedgeree - from his little bowl, the girl living across the hall screwed up her face. This was what colonialism, fifty years after the Empire ended, had done to my son: It had rendered our language unspeakable, our food inedible.
- Suketu Mehta,
Maximum City
Race Demographics in London: Indians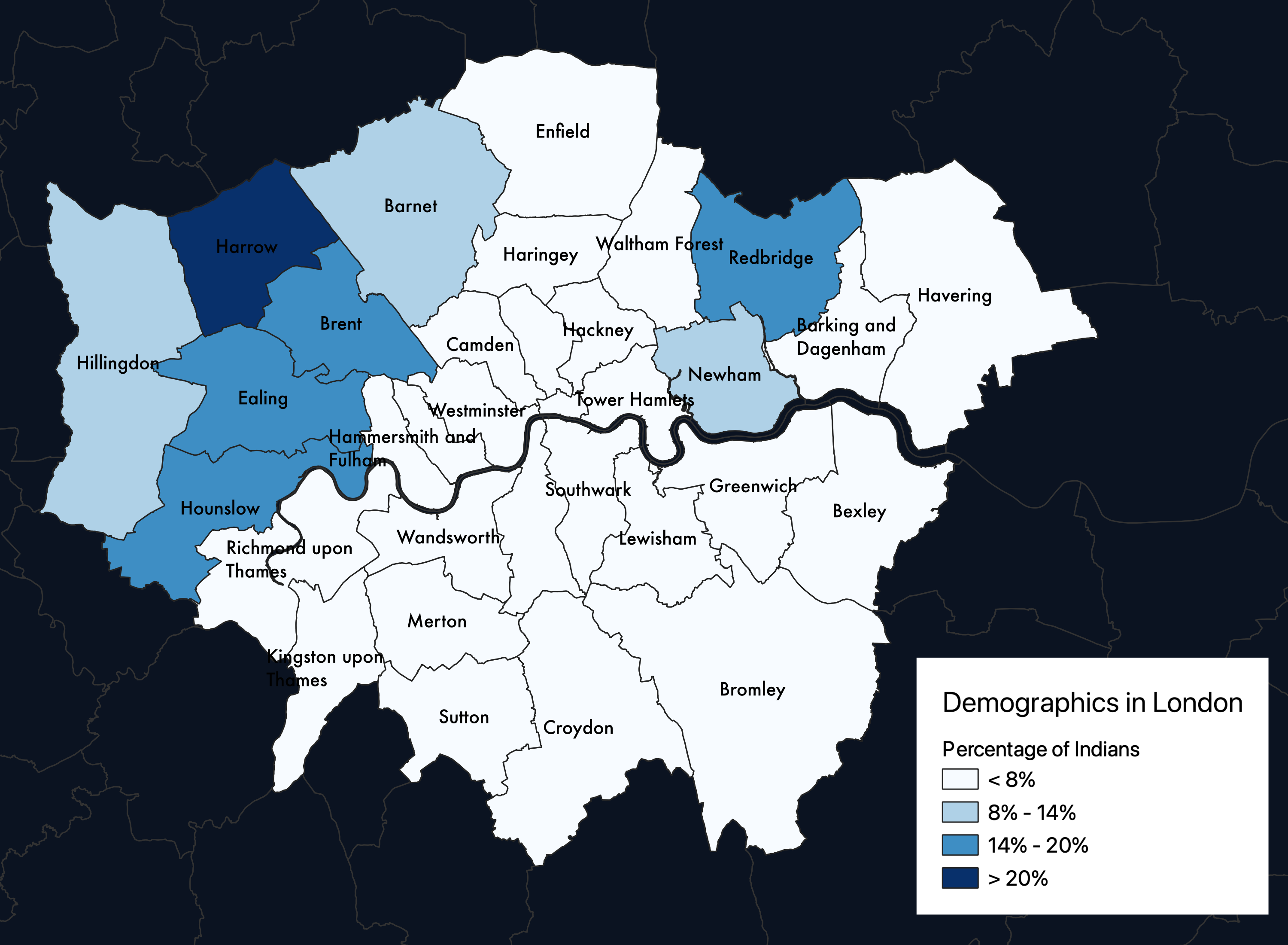 According to the demographic map, most Indians live in West London, a proportion that reaches as high as 25% in the Harrow borough. In the 1960s, businesses such as The R Woolf Rubber Factory eagerly recruited Indian workers and helped spur migration to Southall in West London's Ealing borough. (Data from the Office for National Statistics Annual Population Survey confirms that borough demographics have remained fairly consistent in the past ten years.) To reflect the high concentration of Indian people and street life closely resembling that of India, Southall's nickname is Little India or Little Punjab.
Indian Restaurants in London
Plus, the Indian restaurants that made the UK Michelin Guide and Eater's 38 Essential Restaurants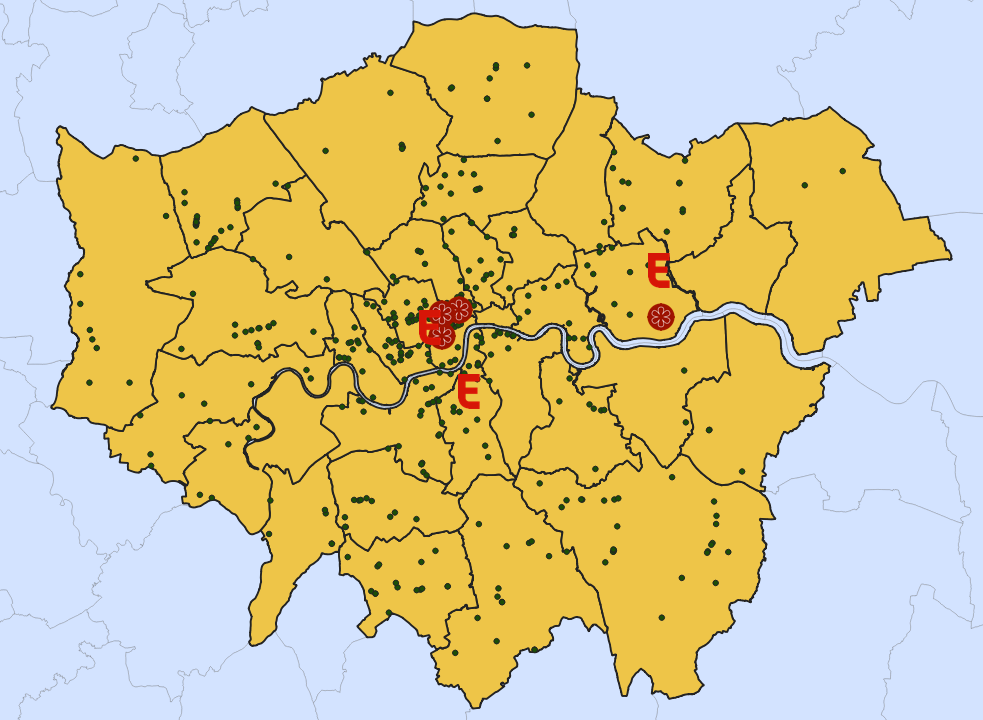 The second map reveals that Indian restaurants are represented across London, but most cluster around the center of London rather than West London or boroughs with a high proportion of British Indians. Recognition for the best Indian restaurants in London follow a similar pattern: four Indian restaurants in the Michelin Guide and three from Eater's 38 Essential Restaurants in London are located in central London, only a few blocks from the windy Thames.
- - -
Given that most Indian people live outside the center of London, I'm intrigued that a majority of Indian restaurants do not show up in West London and zero West London Indian restaurants make it onto popular food lists (Michelin, Eater). An obvious answer is that the center of London functions as a social and financial hub, and therefore attracts the best culinary innovators who want to be near other chefs. On the other hand, these food critics have primarily covered restaurants in the center of London, a fixation that may prevent them from amplifying restaurants beyond districts familiar to them. These maps also do not reflect the experiences of British Indians in West London who can cook delicious Indian food without needing to eat out and thus generate restaurant publicity for their neighborhood restaurants.
A few more notes: since the OSM data only includes the "cuisine" category for 3064 out of 4913 restaurants, those specializing in fusion cuisine (ie. ​​Trinidadian food melds Indian and West African cuisines) are not featured. On top of that, this data set likely omitted Indian food carts serving delicacies such as panipuri and sweet corn, which dominate street life in West London. In the future, I'd be curious to research OSM's data collection process and discover what causes them to exclude certain eateries.
Compare both maps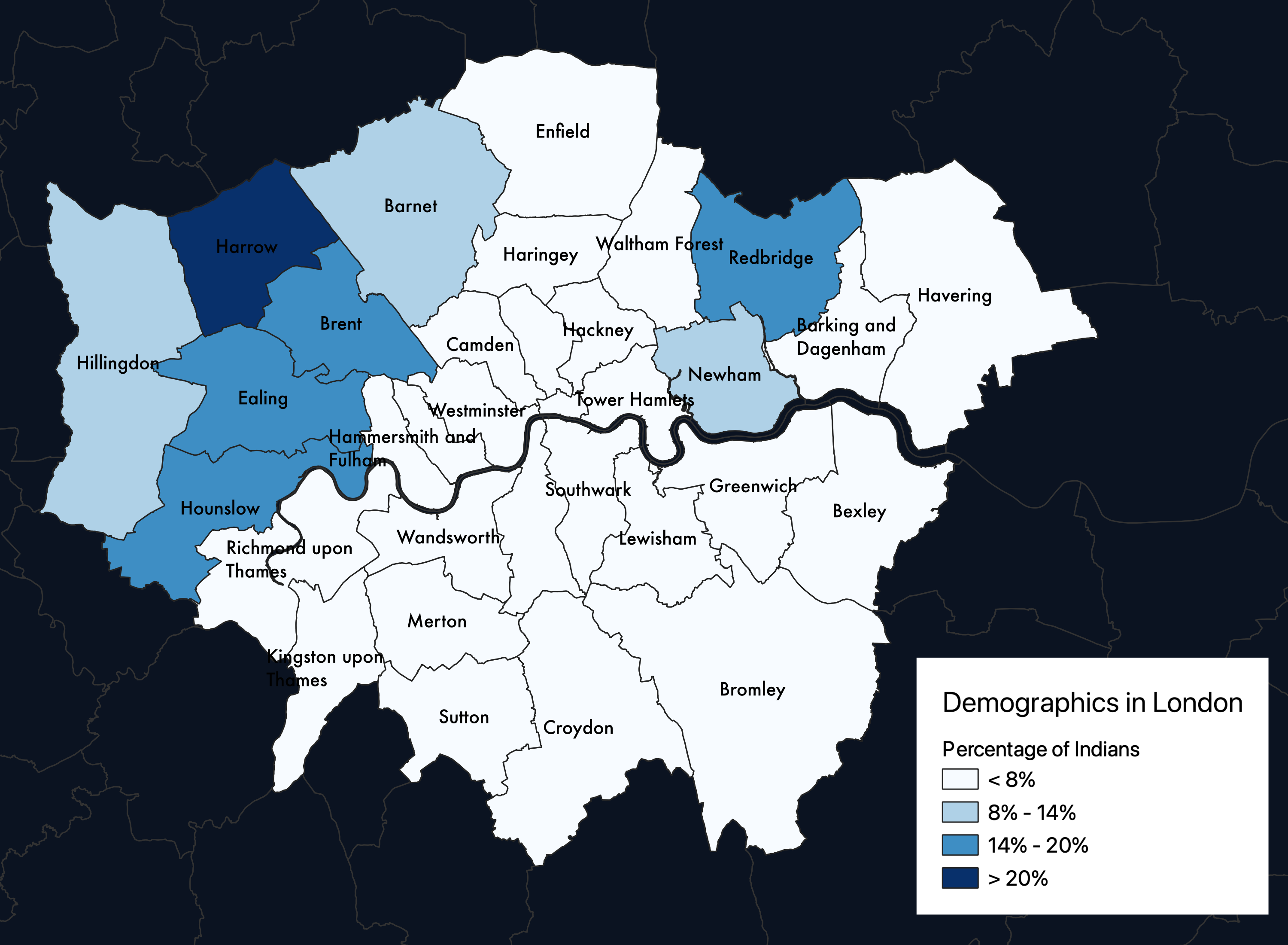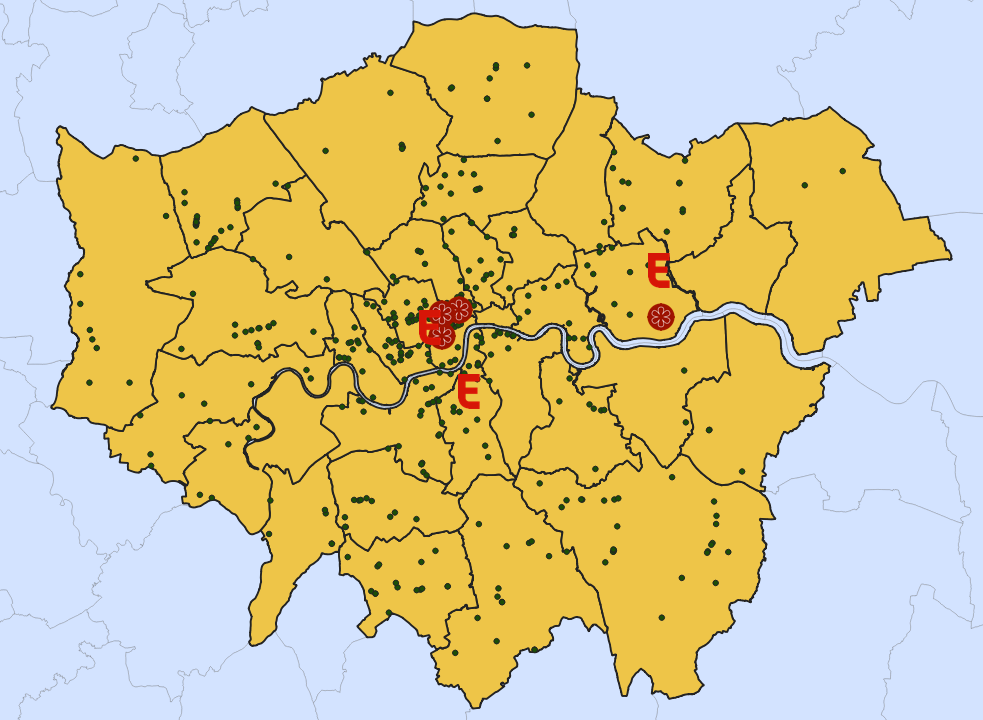 Acknowledgements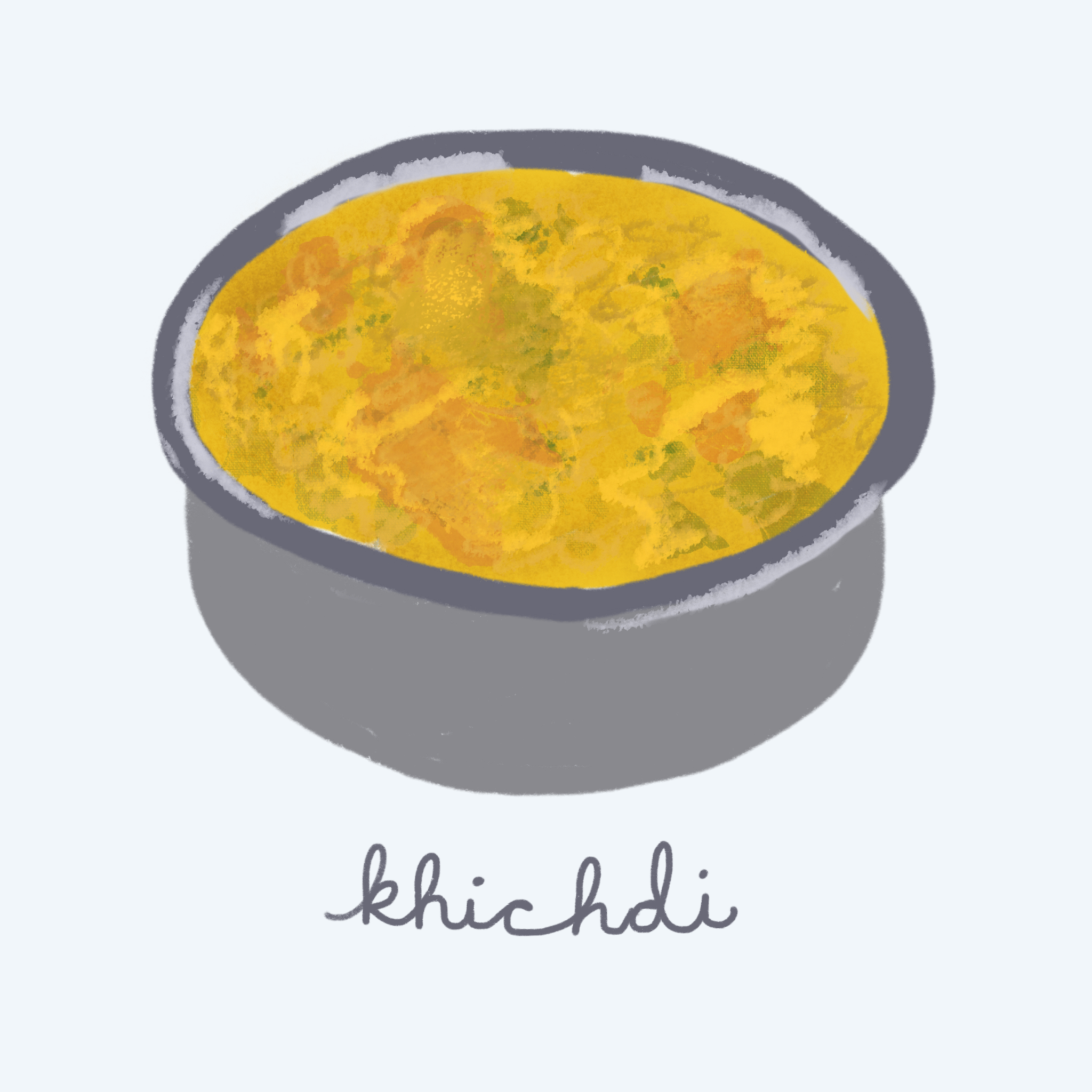 Project by Jess Eng
Data + Resources
Many thanks to Professor Menon, Belle Lipton, David Weimer and Martin Quinn for design advice and feedback during this process, and for this assignment.
English 184f: City Fictions